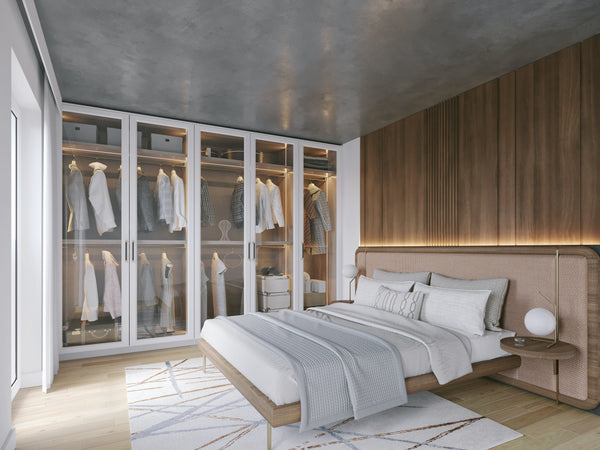 L-Shape Wardrobe, New Door Designs: Discover the Latest Features of the Wardrobe Planner
Sunday 21st August, Singapore - HomeShake releases today new features of its unique Wardrobe Planner, including additional designs and computing time improvements.
Only a few weeks after the official launch of its unique Wardrobe Planner, which is the first of its kind in Singapore, HomeShake has uploaded on its website a new version of its online interface. Investment on digital solutions and 3D rendering tools has become a priority for the Singapore-based carpentry company, which ambitions to revolutionise the market bespoke furniture.
The most ground-breaking feature is clearly the design of a completely new interface for L-Shape Wardrobes. Singaporeans are now able to key in the length of a left and right wall to customise their own wardrobe. The positions of doors and segments have been adjusted to match all available designs and corner concepts. The pricing component and visuals like the dimensions have also been revisited to provide an ever smoother experience.
A series of additional features is also included in this new patch, among which the following ones stand out:
Option for Separate Doors for the Top Segment of your Wardrobe, which is particularly using for room with high ceiling and swing door concepts;
Custom Finishes for the Top Doors with the possibility to have a Wooden Panel or High Pressure Laminate alongside See-Through Glass Doors;
Automated Adjustable Shelf for the Top Segment, which was a request from HomeShake's clients to improve storage capacity and convenience.
The release of HomeShake's New Wardrobe Planner is also the opportunity to fix a few bugs of the previous version, as well as minor improvements such as:
Minimum Length Reduced to L1200mm instead of L1500mm, which will allow households with smaller bedrooms to benefit from the advantages of the Wardrobe Planner
Hide Choice of Sliding Tracks for Swing Wardrobes
Minimum Number of Sliding Doors Blocked at 2 Doors, to avoid situations where a Single Sliding Door would be shown by the configurator.
About HomeShake
We are carpenters, designers, artisans. We build more than wardrobes and cabinets: we custom-make furniture, we varnish, we upholster. We do everything in-house, by hand, in the most traditional manner. Quality is our utmost concern.
More About HomeShake's Legacy
More About HomeShake's Wardrobe Planner