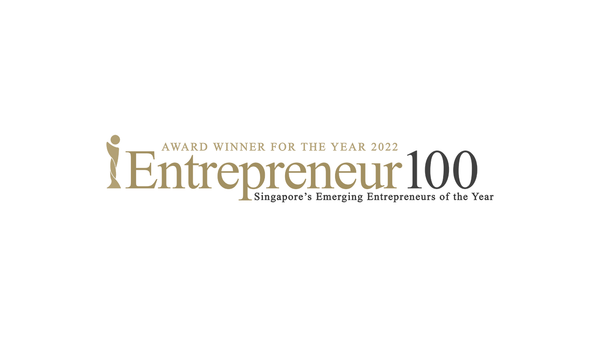 HomeShake Wins Singapore Entrepreneur 100 Award for Outstanding Achievements
12 January 2023, Singapore - We are honoured to announce that our Managing Director, Maxence Mely, has been awarded the Singapore Entrepreneur 100 Award.
It is a testament to our values as an innovative company. HomeShake has been investing significantly in innovative solutions over the last year. We have developed a unique configurator for custom-made furniture and Singapore's first wardrobe planner, with the goal of revolutionising the way people furnish their home.
The Entrepreneur 100 Award honours and celebrates the success of Singapore's top performing entrepreneurs whose inspiring ambitions have contributed to the business's success, delivering growth, business innovation and prosperity that transforms the industry.
Coinciding with Singapore's focus on fostering entrepreneurship and providing support and tools for local entrepreneurs to take on the world market, the Entrepreneur 100 Award provides recognized entrepreneurs with an unrivaled platform to grow beyond the local scene, showcasing their abilities and achievements on both national and global scale.
Mr Gerard Wong E K, Vice President of the Association of Trade & Commerce: "With comprehensive and stringent assessment of all applicants, being awarded the Entrepreneur 100 Award is of pride and a significant milestone for you and your business."
Mr Maxence Mely, Managing Director of HomeShake: "Our designers and carpenters work hard everyday to create a unique experience for our clients, from our website to our workshop. This Award is the proof that dusty carpentry companies like ours can also create innovative solutions for Singaporeans.
About HomeShake
We are carpenters, designers, artisans. We build more than wardrobes and cabinets: we custom-make furniture, we varnish, we upholster. We do everything in-house, by hand, in the most traditional manner. Quality is our utmost concern.
More About HomeShake's Legacy
More About Homeshake's Furniture Configurator
About the Association of Trade & Commerce (Singapore) 
The Association of Trade & Commerce (Singapore) (ATC) is a business association that represents and advocates for the interests and development of Singapore enterprises across all industries and business sectors. 
More About the Singapore Entrepreneur 100 Award
More About the Association of Trade & Commerce