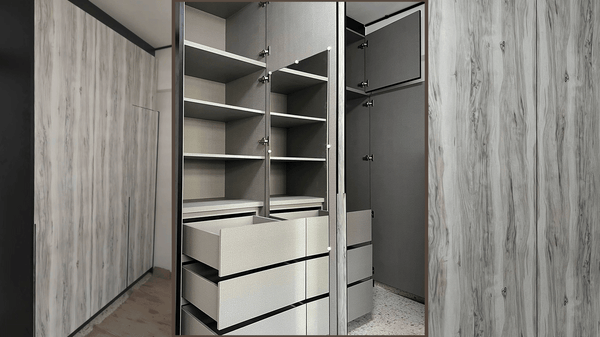 What's Inside a Custom-Made Wardrobe?
Drawers? Shelves? Hanging Rod? Mirror?
When you design your fitted wardrobe with our Wardrobe Planner, you are asked to customize the internal configuration for each segment.
Here are a few pointers to help you make the best choice for you.
1. A Few Drawers Only
This is probably the most important takeaway. We recommend our clients to avoid having having too many drawers:
- they reduce hanging space, especially if you have long dresses or coats;
- they are not so practical when you start stacking up your clothes.
Actually, there are 2 types of items that should be stored neatly in drawers:
- undergarments, of course:
- your valuables, likes your jewellery, watches, cufflinks, etc.
In that case, you can opt for a lock to get it safe, and a divider to keep it neat.
2. Plenty of Hanging Space
This goes without saying: a wardrobe a this particular closet where clothes are easy to find, view, touch, compare, pick, and put back. There is no better way to achieve this than with a hanging rod.
In Singapore, most wardrobes will have 2 rows of hanging rods to optimize space. Most of our clients don't mind folding their pants, for instance.
There are different types of wardrobe rails:
- round or square;
- nickel or chrome plated;
- plain or with integrated LED Strip Light.
The most surprising rail will be the Wardrobe Lift. If you wear many long dresses or would like to use the full height of the wardrobe, the Wardrobe Lift is the perfect fitting for you.
We recommend the German HAFELE Wardrobe Lift. It is made in Steel for segments with a length of up to 1100mm, and has a load bearing capacity of up to 18kg.
3. Shelves if Necessary
Shelves are pretty useful for linen or towels that need to be stored, but won't be displayed like clothes. 
If you don't have much storage space in your house, take this opportunity to have more shelves. After all, a wardrobe is a closet, and you can keep in there your bed sheets, pillow cases or even your luggages.
Regarding baggages, we actually designed the upper segment of the wardrobe with luggages in mind. For all wardrobes with a standard height of 2600mm like in HDBs, you will have 500mm above the top shelf to store such items.
Remember, this top shelf isn't easy to access. Anything that's infrequently used will fit there - winter clothes, suitcases, ironing boards etc.
4. Try our Jewellery Drawer
There will be more articles coming up about the jewellery drawer, so keep a look out. We designed the best accessory for ladies to keep their watches, rings, earrings, bracelets and necklaces.
Any question? Book an appointment and Visit our Showroom.