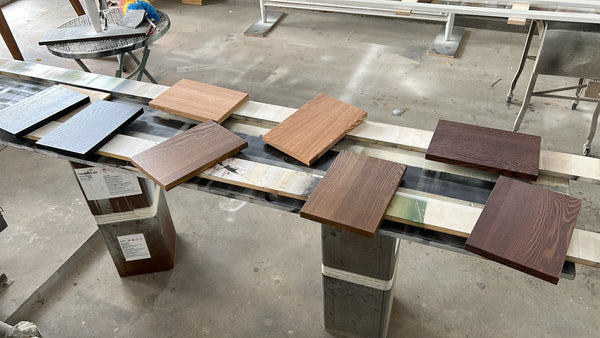 What wood to use for my bespoke furniture?
If you are considering ordering Singapore-made bespoke furniture, you may have a few questions about our wood. Here are some pointers regarding the various wood veneers that we offer, and our most popular wood stains.
A few words about Wood Veneer & Wood Stain
Wood veneer is a thin layer of real wood that is sliced or peeled from a log and then applied by our carpenters to the surface of furniture, cabinets, or other wooden objects to create a decorative finish. It is typically used to give the appearance of solid wood at a lower cost or to enhance the natural beauty of a wood grain. Veneer comes in various thicknesses and can be made from different types of wood.
Wood stain, on the other hand, is a type of finish that is applied to wood surfaces to alter or enhance their colour. Stains are typically liquid or semi-liquid substances that contain pigments or dyes, which penetrate the wood fibers to give it a desired hue. Wood stains come in a wide range of colors, from light tones to dark shades, and they can be transparent, semi-transparent, or opaque depending on the desired effect.
What do we offer at HomeShake?
We can propose roughly 50 different types of wood veneer, from American Oak and Burmese Teak to exotic ones like Burl, Bamboo or Maple. That being said, we have a range of our most common or most popular wood veneers.
You can go for a transparent varnish and keep the natural colour of Oak, Walnut or Teak Veneer. But you can also varnish a more common wood in Singapore like Nyatoh with a particular wood stain to match the rest of your furniture.
Visit our Workshop to learn more about Wood Veneer and order your bespoke furniture - made in Singapore!