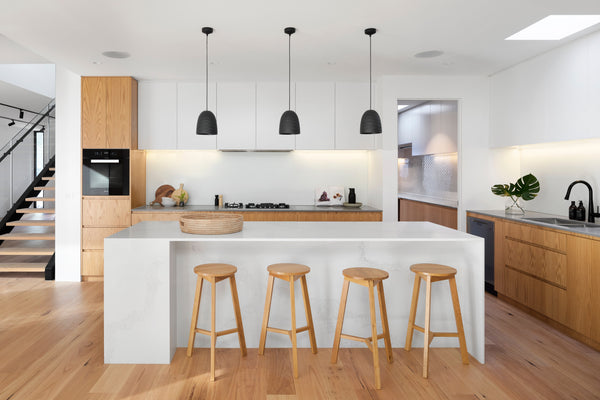 What Material for your Kitchen Countertop?
For your kitchen, the obvious choice is a quartz countertop. But what is quartz? Why prices vary so much? Are there other options? Here is our take on kitchen countertop materials.
1. What Materials are available on the Market?
There are several materials you can use for your kitchen countertop, each with its own advantages and disadvantages. Some popular options include:
Granite: Granite is a durable and heat-resistant natural stone that is highly resistant to scratches and stains. It's available in a wide range of colors and patterns.

Quartz: Quartz is a man-made material that is highly durable and low-maintenance. It's resistant to scratches, stains, and heat, and is available in a wide range of colors and patterns.

Solid surface: Solid surface materials, such as Corian, are made from a blend of acrylic and other materials. They are easy to clean and maintain, and can be molded into various shapes and designs.

Marble: Marble is a natural stone that is known for its unique veining and elegant appearance. It's softer and more porous than granite, so it requires more maintenance to prevent staining and scratching.

Laminate: Laminate countertops are made from layers of paper or fabric that have been impregnated with resin and covered with a decorative layer. They are affordable, easy to clean, and available in a wide range of colors and patterns.

Wood: Wood countertops provide a warm and natural look to the kitchen. They require more maintenance than other materials and can be easily scratched or stained.

Concrete: Concrete countertops are durable and can be customized with a variety of colors and textures. They are also heat-resistant and can be formed into various shapes and sizes.
When choosing a material for your kitchen countertop, consider factors like durability, maintenance, cost, and style to find the option that best fits your needs and preferences.
2. Which is Actually Most Popular in Singapore?
Quartz is one of the most popular materials for kitchen countertops for several reasons:
Durability: Quartz is a man-made material that is composed of 93% natural quartz stone and 7% resins and pigments. This combination creates a durable surface that is resistant to scratches, stains, and heat.

Low maintenance: Quartz is non-porous, which means it doesn't require sealing and is easy to clean with just soap and water. It's also resistant to bacteria and mold growth, making it a hygienic choice for the kitchen.

Consistency: Because quartz is a man-made material, it can be produced in a wide range of colors and patterns that have a consistent look and feel. This makes it easy to match with different kitchen designs and styles.

Cost: While quartz is not the cheapest option for a kitchen countertop, it is more affordable than natural stone materials like granite or marble.

Environmental friendliness: Some quartz manufacturers use recycled materials in their production process, which makes quartz a more environmentally friendly choice.

Resale value: A kitchen with a quartz countertop can increase the resale value of a home. Buyers are often willing to pay more for a home with a high-quality, low-maintenance countertop material.
Overall, the combination of durability, low maintenance, consistent look, and affordable cost make quartz a popular choice for kitchen countertops.
3. Can it Fit my Budget?
Yes, because as a kitchen manufacturer, we make sure to have a wide range of options available for our clients.
We mainly work with Cosentino's quartz, which is made in Spain. The price of Cosentino can vary depending on several factors, such as the specific type of quartz, the size of the countertop, the complexity of the installation, the choice of edging. In general, Cosentino quartz tends to be on the higher end of the price range for quartz countertops, with prices typically starting at around $100 per foot run with the Silestone range, up to $200 for Dekton or Sensa.
It's important to keep in mind that the cost of the material is only one aspect of the total cost of a kitchen renovation or countertop replacement. Other factors to consider include installation costs, edge treatments, backsplashes, and any necessary plumbing or electrical work.
When planning your project, it's a good idea to get multiple quotes from different quartz designs and "groups". This can help you make an informed decision that fits your budget and meets your design goals.