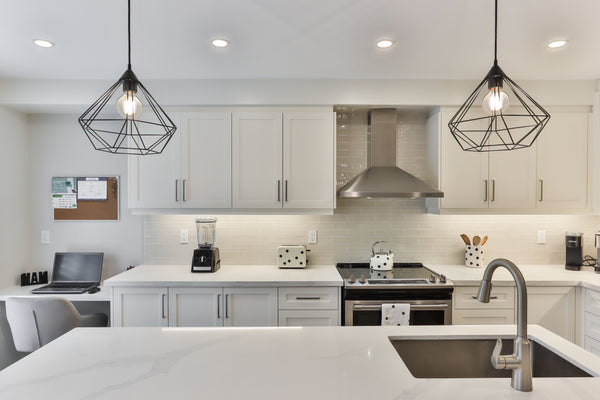 What is the "Shaker Design" or "Shaker Doors"?
If you are considering renovating your kitchen, you certainly have heard about Shaker Doors. It's the big trend here in Singapore, but a trend what comes with critical material decisions. Is it right for my kitchen?
A Shaker door is a type of interior door that is inspired by the design principles of the Shaker community. It is a simple and classic door style characterized by its clean lines, minimalist appearance, and flat center panel. Shaker doors are typically made of wood, although there are variations available in other materials such as composite or MDF (medium-density fiberboard). We only make them in Solid Plywood, never MDF.
The defining feature of a Shaker door is its panel construction. It consists of a flat rectangular frame surrounding a recessed or raised center panel. The frame is usually wider than the panel, creating a distinctive border. The panel itself is often plain and smooth, without any intricate details or ornamental carvings.
Shaker doors are known for their versatility and timeless appeal. They can be found in various interior settings, from traditional to contemporary, as their simplicity allows them to blend well with different decor styles. These doors are commonly used for cabinets, closets, and interior room doors, and they can be painted or stained to match the desired color scheme of a space.
Is it popular to have Shaker Panels in my kitchen in Singapore?
Yes, Shaker-style panels are quite popular for kitchen cabinets. The clean lines and simple yet elegant design of Shaker doors make them a versatile choice that can complement a wide range of kitchen styles, from traditional to modern.
Shaker cabinets are known for their timeless appeal and ability to create a clean and organized look in the kitchen. The flat center panels offer a sleek and uncluttered appearance, making them a popular choice for homeowners who prefer a minimalist aesthetic. Additionally, the versatility of Shaker cabinets allows them to be paired with various hardware options, countertop materials, and finishes, making it easier to customize the look to suit your personal taste.
Furthermore, Shaker cabinets are often associated with durability and craftsmanship, as they are typically made from high-quality wood and constructed with sturdy joinery techniques. This combination of style, functionality, and durability has contributed to the enduring popularity of Shaker-style cabinets in kitchen design.
Whether you prefer a traditional, transitional, or contemporary kitchen style, Shaker panels can provide a timeless and versatile foundation for your kitchen cabinets.