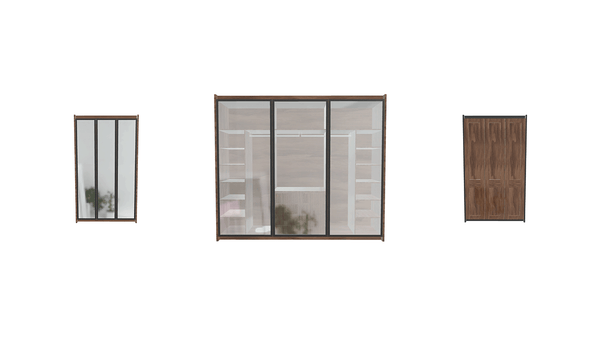 Wardrobe Planner: 8 Reasons Why You Must Try It Out
HomeShake has just launched a revolutionary Wardrobe Planner. Nested on our website, it is the perfect tool to help Singaporeans design their new Wardrobe. 
Here are 8 reasons why it's going to change the way we look at wardrobes:
1. State-of-the-Art Visualizer
You won't believe it if you haven't tried it. Our Wardrobe Planner generates a 360 virtual reality immersion in just seconds.
You can see your wardrobe while you are designing it. Increase the length and the model adjusts immediately. Change the colours, door design, internal configuration, and you can visualize it right away.
It's incredibly realistic for a model of this complexity. It adjusts instantly with every option that you select. And it's very fun to play with.
2. Augmented Reality
It's always difficult to imagine how your wardrobe would look like in your bedroom. Or it used to be.
Our Wardrobe Planner works with Augmented Reality.
You need to use your phone or your tablet for this feature. Design your wardrobe on our website, and then click on the Augmented Reality icon in the top right corner.
Your screen will use your camera to show your room, and our software will display your new Wardrobe in the middle of it. You just need to point your device toward the right wall and… voila!
Take a screenshot, and admire your new Wardrobe just there in your bedroom. Custom-made carpentry has just become incredibly easy.
3. Amazing Range of Options
We have supercharged our Wardrobe Planner with dozens of options:
various door designs like Shaker Doors, Clear or Tinted Glass Panels, Full-Height Mirror, Aluminium Frame;
branded fittings like BLUM drawer tracks and soft-closing hinges;
unique features like the HAFELE soft-closing aluminium tracks with anti-derailment system.
You can customize each segment of your closet to organize your clothes as you wish:
hanging rods for dresses, jackets and coats;
shelves for tops, sweaters, linen;
drawers for undergarments and accessories;
You can add some incredibly practical options like the jewellery drawer:
a glass top to see everything clearly;
an internal divider to carefully organize your watches, bracelets, necklaces etc;
a set of lock and key to keep it safe.
Of course, our wardrobes come by default with an external in High Pressure Laminate with ABS Edging, and an internal in PVC (Polykem). We also offer Wood Veneer and Fabric Upholstery for fancier wardrobes.
4. Control your Budget
The price of your wardrobe is based its length, its height, but also all the options and fittings that your might select: the number of drawers, the type doors, hinges, sliding tracks , etc
Some of these options are free of charge: for instance, the number of doors has no impact on the final price. Similarly, there is no additional charge for a carcass height that is 2600mm or below.
But when you add all your preferred designs and fittings, the price of the wardrobe may exceed your initial budget. This is especially true when you consider premium options like tinted glass door panels with aluminium frame.
That is why our wardrobe planner updates the price at every step of the customization.
For every dimension that you provide or option that you select, our wardrobe planner calculates the new price of the wardrobe. It's instantaneous.
In other words, we make it super easy to control your budget. You just need to keep an eye on the price and only select fittings that allow you to stay within your budget.
5. Time to Try Several Configurations
It may feel sometimes daunting to design your own wardrobe. How many drawers do I need? How to optimize the space? Where will I keep my long dresses or winter clothes?
Take your time. The beauty of our Wardrobe Planner is that you can try as many different configurations as you want. For each of them, you will get an amazingly realistic 3D model, instantly.
You won't feel bad for the poor interior designer after the 5th set of changes! 
Take your time, try it out, and come to our showroom. Our experts will help you to optimize your interior configuration, based on your personal preferences.
6. Get an Itemized Quotation
Once you have completed your wardrobe customization, you might want to sleep on it. Purchasing a new wardrobe is very personal and we want our clients to take their time.
That is why we are providing for free an automated and itemized quotation.
We just need your name and an email address. Our servers will then compute your data into a simple document with all of your selected parameters. The detailed price of each option appears clearly.
Bring this quotation to our showroom. One of our interior designers will take a look and advise you on the choice of materials. That way, you really get the best wardrobe possible for you, and for your home.
7. Designed by Carpenters
It may look super fun, but it's not a toy. Our wardrobe planner was designed based on actual shop drawings of custom-made wardrobes.
Every detail was carefully thought-trough: the thickness of the wood, the specifications of the hanging rods, the design of door frames, etc. 
The 3D model that you see is extremely realistic. It was meant to be as close as possible to the actual wardrobe that we will manufacture. And that's not just to look good.
Our servers can automatically generate the technical drawings that our carpenters use to make the wardrobes. Those drawings are based on the 3D model that you see. In other words, we manufacture exactly what you see. 
8. Unique in Singapore
National Day is coming soon, and we are so proud to say that our Wardrobe Planner is the first of its kind in Singapore.
We didn't invent the concept - other companies in other countries already use similar tools. But not here, not at home.
We are the first Singaporean company to develop a Wardrobe Planner. It is also very superior to what others have done in Europe in terms of rendering, computation time and user experience.
It sounds a bit cheesy to say, but Singapore is not behind when it comes to technology. We may be much smaller in size, but we are good at what we do. And we will continue to strive to offer the best quality for Singaporeans.  
Try it out: HomeShake's Wardrobe Planner