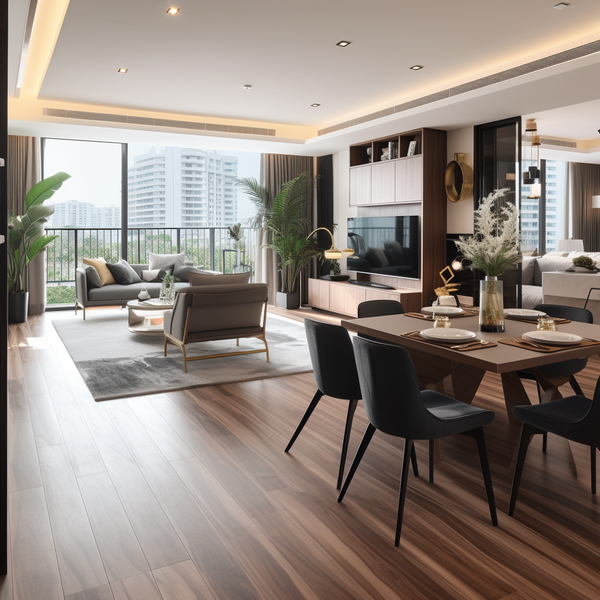 TV Console & Feature Wall: 5 Questions To Ask Yourself
Designing a TV console and feature wall cabinet requires careful consideration of both functional and aesthetic factors to create a harmonious and functional piece of furniture for your living space. Here are some important considerations to keep in mind:
1. TV Size and Placement: Determine the size of the TV that will be placed on the console and its ideal viewing height. Too often, clients decide to have a TV too high and a console too tall, which hampers their viewing experience. Try to keep the console height aligned with the coffee table and sofa seat cushion. This will help you decide on the dimensions and positioning of the console.
2. Cable Management: Incorporate cable management solutions to keep wires and cables organized and hidden. This can include cable ports, wire channels, or built-in cable organizers. We usually recomment to have the console vertical partitions recessed at the back, which will allow the wires to flow freely from left to right segments. A TV Console must be practical, for now and in the future. Who knows the size of the next Playstation and where you will keep it?

3. Material Selection: Choose materials that match your room's aesthetics and provide durability. If you have pets, prefer high pressure laminate: easier to clean, harder to chew on. If your home is filed with beautiful wooden furniture, consider wood veneer and curved corners to make the design more organic.

4. Built-in vs. Freestanding: Decide whether you want a built-in unit that's custom-fitted to your wall or a freestanding piece. Built-ins can maximize space but are less flexible if you want to rearrange your room. We don't have a preference here, unless we go for a cantilever / wall mounted console - in that case, it has to be built-in.

5. Budget: Determine your budget early in the design process to guide your choices in terms of materials, finishes, and additional features. Carpentry price is a function of design, dimensions and materials. It is very easy to fall in your budget with beautiful designs just by adjusting dimensions and materials. We are happy to help with that.
There is a last concern though: Professional Installation: Depending on the complexity of your design, you may want to higher an experienced carpenter to ensure safety and functionality.
Remember that the design of your TV console and feature wall cabinet should enhance your overall living space while meeting your specific functional requirements. Taking the time to plan and consider these factors will result in a well-designed and practical piece of furniture.
More Questions? Here is our page dedicated to TV Consoles & Feature Walls.