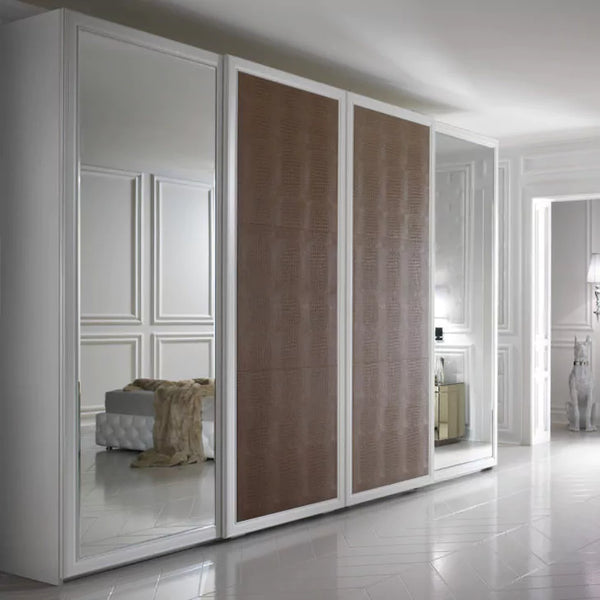 Upholstered Wardrobes: Carpentry for Luxury Bedrooms
Talking about unique wardrobes: here is a feature that you can only find in the most exclusive showrooms like Gucci's Flagship Store in Paragon.
Yes, fabric can be used as a material for your carpentry. The same way we clad TV feature walls with High Pressure Laminate, we are able to upholster plywood panels with fabric.
You might wonder how a carpenter can be trusted with upholstery - well, you don't need to. Once the carpentry is built, it is our team or tailors who take over for the sewing and the stitching. In-house, in Singapore.
What can you upholster? How to select your fabric? How is it going to look like? Here are some pointers to help you design your own upholstered wardrobe.
1. What parts of my wardrobe can I cover with fabric?
Technically, everything can be upholstered. Of course, not the fittings: hinges are in stainless-steel, most tracks are in aluminium, etc. But this goes without saying.
The first thing that comes to mind is shelves. Pretty must all kinds of shelves can be upholstered, fixed or adjustable. In practice, it is essentially adjustable shelves that we upholster, because they are more common in wardrobes.
Having upholstered shelves to display your handbags is just exquisite. We are referencing some pictures below of such display cabinets.
But it's not just about shelves. Quite often, we upholster cabinet doors. We don't always use foam with doors. The point is not necessarily to turn your wardrobe into a sponge. 
When we upholster doors, we try to create a pattern with the stitching. We can also use upholstery nails to add some vibrancy to the doors. With a few lines and crosses, your wardrobe doors will become unique.
If you wish to upholster doors, the next step will be to clad the side panels too. There is no rule here. From a design point of view, it makes sense to use an accent colour or material for the side panels. An elegant wood grain or an eclectic metallic laminate can add some peps to the wardrobe.
To some extent, we usually recommend to have some consistency between the side panels, the skirting and the top box up. This builds up the frame of the wardrobe. But if you wish to upholster the side panels, it's perfectly possible. We would explore using LED lights below and above the carcass to accentuate the dichotomy with the skirting and box up.
Last but not least, fabric is great to soften drawer dividers. Again, we won't have space for foam, maybe just a layer of white fibre. The point is the feel that's generated by the use of upholstery inside a drawer, where one might keep or display his or her most precious valuables. And that leads us to the why.
2. Why should I consider an upholstered wardrobe?
Most of our clients who ordered upholstered wardrobes already knew exactly what they wanted. To be perfectly honest, the main reason for this feature is pure design. Not just that of the wardrobe - but the whole concept of the room.
The best example for this is our "Pink Room". One of our clients, a wonderful lady, wanted to convert a guest room into a walk-in wardrobe. The design concept was exceptional: texture paint, wall paneling, silver upholstery nails to match the bespoke aluminium frame, glass doors and upholstered panels.
So we would always ask this question to our clients: what's the design intent? How do you foresee the room with the wardrobe? Do we need upholstered panels to make this happen?
Of this design concept, the most popular feature is clearly the glass door. Our clients really appreciate the possibility to display their bags on upholstered shelves, with LED strip lights and the right handle.
This applies to upholstered drawer dividers too. Having your jewellery on display in a soft and cushioned box is just wonderful, and quite practical too.
3. What fabric can I choose?
Finally, let's talk about the material itself.
Polyester

: probably the most affordable textile, this man-made fabric is pretty good at retaining its shape and the colour won't fade even after several wash cycles. It is a warm fabric and has a low resistance to heat, which isn't really an issue for wardrobe cladding.
Velvet / Suede

: a soft, smooth, slightly shiny textile that shouts luxury when you touch it. This is the best fabric for a high-end feel. It has got this 2-tone look that some people dislike, and unfortunately catches dusty easily. Also, some clients prefer a fabric with patterns, which velvet hardly offers.
PU Leather: polyurethane leather is an artificial textile made of thermoplastic polymer. It is widely used by cabinetmakers, but also in the shoes and automobile industries. It's a vegan alternative of genuine leather, very affordable, and comes in beautiful colours and patterns. Unfortunately, it won't last as long as genuine leather, and you must expect some cracks over time.
Genuine Leather: a truly natural product, it is made of an animal hide, in other words its skin. Cowhide accounts for about 65% of genuine leather around the world, and it can be stained in beautiful colours. We have our own stock of genuine leather options in our showroom. It is particularly resistant, but hardly inexpensive.
Designer's Choice:
FibreGuard Stain Free: we strongly recommend Belgian Fabrics from Acacia and their Water Clean technology. It has got excellent durability, optimum washability, it is easy to clean and will help you tackle household stains with low maintenance efforts. It is child friendly, pet friendly, and won't give it to stains from ballpoint pens, coffee, red wine or mud. Just follow Acacia's How to Clean guide.