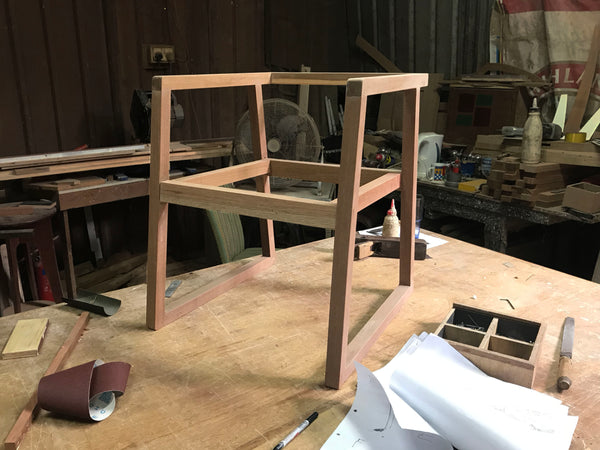 Should I use Laminate or Wood Veneer for my Project?
What is laminate? What is wood veneer? Which is better? We get these questions very often, because our skilled carpenters are able to work with a much wider range of materials than most carpentry workshops in Singapore. Here are some pointers of the materials specifications and how to choose them.
1. High Pressure Laminate
High pressure laminate (HPL) is a type of decorative and functional surface material that is commonly used in a variety of applications, including countertops, furniture, and wall panels. It is made by layering several sheets of decorative paper and resin under high pressure and heat. The result is a durable and resistant surface that is available in a wide range of patterns, colors, and textures.
HPL is known for its resistance to moisture, heat, and impact, making it a popular choice for use in kitchens, bathrooms, and other high-traffic areas. It is also easy to clean and maintain, and it can be produced in a variety of thicknesses and finishes to meet specific design requirements.
Overall, HPL is a versatile and cost-effective material that can be used in a variety of applications, offering both aesthetic and functional benefits.
2. Wood Veneer
Wood veneer is a thin slice of real wood that is used to cover the surface of furniture, cabinetry, walls, and other architectural elements. Veneers are made by slicing a log into thin sheets, which are then glued onto a substrate material, such as solid plywood. The result is a surface that has the appearance of solid wood, but is more stable, consistent, and economical.
Veneers are available in a variety of species, grades, and finishes, allowing for a wide range of design options. They can also be matched and blended to create unique patterns and designs.
One of the main benefits of wood veneer is that it allows for the use of expensive, rare, or otherwise unavailable wood species, while minimizing waste and reducing the impact on natural resources. Veneers are also less prone to warping and cracking than solid wood, and they can be easily repaired if damaged.
Overall, wood veneers are a popular choice for interior design and architecture, offering a sustainable, durable, and cost-effective alternative to solid wood.
3. Which is better: laminate or veneer?
The decision to use veneer or laminate depends on several factors, including your design preferences, budget, and intended use of the space.
Veneer:
Pros:

Natural wood appearance: Veneers offer the look and feel of real wood, and they can be stained or finished to match a specific wood species.
Eco-Friendly: Veneers can be made from sustainable wood species and can help to conserve natural resources by using thin slices of wood instead of solid planks.

Cons:

Cost: Veneers can be more expensive than laminate, especially if you are using high-end or exotic wood species.
Maintenance: Veneers require regular maintenance, including cleaning and polishing, to keep them looking their best.
Laminate:
Pros:

Cost: Laminate is generally more affordable than veneer, making it a popular choice for budget-conscious consumers.
Durability: Laminate is extremely durable and resistant to moisture, heat, and impact, making it ideal for high-traffic areas.
Maintenance: Laminate is easy to clean and maintain, and it does not require any special treatment or sealing.

Cons:

Artificial appearance: Laminate often has a synthetic or artificial appearance, and it may not be as visually appealing as real wood.
Limited design options: Laminate is available in a limited range of colors, patterns, and textures, so it may not provide as much design flexibility as veneer
Poor Edging: most laminates don't have a matching ABS edging, as opposed to veneer which can be used to cover the edges perfectly without any black line.
Ultimately, the choice between veneer and laminate will depend on your specific needs, preferences, and budget. It may be helpful to consult with a professional designer or contractor to determine the best option for your project.