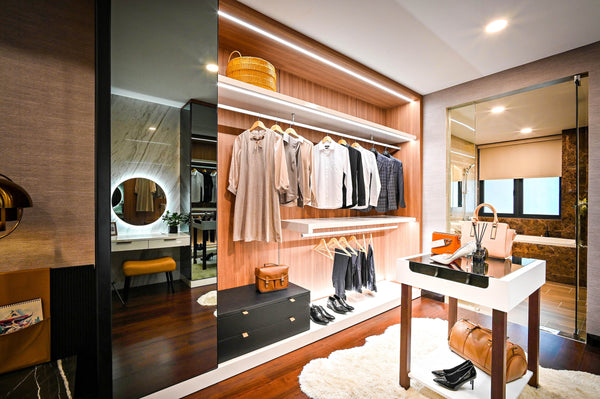 Should I Order a Custom-Made Wardrobe?
Finding a ready-made cupboard online is pretty straight forward. There are plenty of shops including Ikea with a wide range of designs. Yet, very often, clients come to us to design and install a bespoke Built-in Wardrobe. Here's Why.
Advantages of Ordering a Built-in Wardrobe
There are several reasons why people may choose to order a built-in wardrobe:
Customization: A built-in wardrobe can be customized to fit the specific dimensions and layout of your space. This can be especially beneficial in smaller or irregularly shaped rooms where a standard-sized wardrobe may not fit.

Space-saving: A built-in wardrobe can help you maximize your storage space and reduce clutter in your room. Since it is built into the wall, it doesn't take up any floor space.

Aesthetics: A built-in wardrobe can be designed to match the existing decor and style of your room. It can be made to blend seamlessly into the wall, creating a clean and cohesive look.

Increased home value: A built-in wardrobe can add value to your home by providing an attractive and functional storage solution. It can be a selling point for potential buyers who are looking for homes with built-in storage.

Durability: Built-in wardrobes are often made with high-quality materials and construction, which can make them more durable and long-lasting than free-standing wardrobes.
Overall, a built-in wardrobe can be a practical and stylish storage solution for any room in the house. It can be customized to fit your specific needs and preferences, and can provide a range of benefits over a standard free-standing wardrobe.