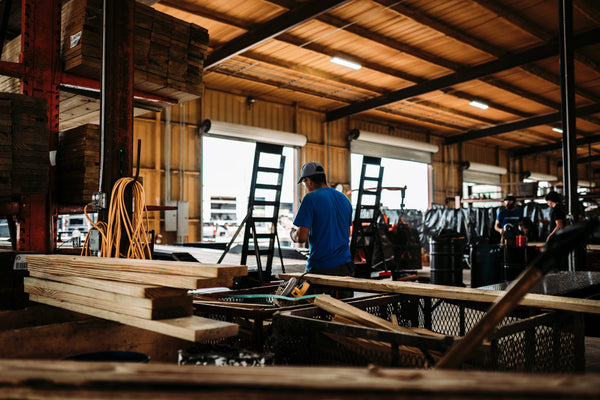 Is it Still Possible to Get Real Wood Carpentry in Singapore?
Woodworking is a dying art in Singapore. Most carpentry workshops stopped working with Solid Wood years ago and focus only on Plywood and MDF. Very few, like ours, strive to keep such skills alive and continue to import Solid Ash, Teak and Oak to make furniture like Dining Tables, Desks, Make-Up Tables, but also Wood Panels and Kitchen Doors.
The Lay of the Land
Genuine timber is more expensive and time-consuming than using synthetic materials, which can be a deterrent for some carpenters. Additionally, Singapore's hot and humid climate can make it challenging to work with certain types of wood, as the moisture levels can cause warping or cracking if not properly handled.
Another factor could be the availability of real wood in Singapore. As a small island nation with limited natural resources, Singapore has to import most of its timber. This can lead to higher costs and longer lead times for sourcing and obtaining real wood materials.
However, despite these challenges, there are still a few carpenters in Singapore who specialise in working with real wood and are able to produce high-quality furniture and carpentry projects using traditional woodworking techniques.
Opportunities to use Solid Timber
Solid timber is a versatile material that can be used to create a wide range of furniture pieces, from traditional to modern styles. Some of the furniture pieces that can be made using solid timber include:
Dining tables and chairs
Coffee tables and side tables
Bookcases and shelves
Bed frames and headboards
Cabinets and wardrobes
Desks and office furniture
Sofas and lounge chairs
Benches and stools
TV consoles and entertainment centres
Kitchen islands and countertops.
Solid timber is a popular choice for furniture-making because of its natural beauty, durability, and strength. Depending on the type of wood used, it can be finished in a variety of ways, from a light, natural finish to a darker, stained finish. With proper care and maintenance, solid timber furniture can last for decades and even become family heirlooms.
Our Preferred Choices: Ash, Oak & Teak
Ashwood, teakwood, and oakwood are all popular choices for furniture and carpentry projects due to their durability, strength, and natural beauty. Here are some of the qualities of each wood type:
Ashwood: Ashwood is a strong, hard wood with a light to medium brown color. It has a pronounced grain pattern and is known for its flexibility, which makes it a popular choice for furniture with curved or rounded elements. Ashwood is also relatively lightweight and easy to work with, making it a popular choice for furniture makers.

Teakwood: Teakwood is a dense, hard wood that is resistant to rot and insects, making it a popular choice for outdoor furniture and marine applications. It has a beautiful golden-brown color and a tight, straight grain pattern that is highly prized. Teakwood is also relatively low maintenance, requiring only occasional oiling to maintain its color and luster.

Oakwood: Oakwood is a hard, heavy wood with a light to medium brown color and a distinctive grain pattern. It is known for its durability and strength, making it a popular choice for furniture that needs to withstand heavy use. Oakwood is also relatively easy to work with and can be finished in a variety of ways, from a natural, light finish to a dark, stained finish.
Overall, all three wood types have their own unique qualities and can be used to create beautiful, long-lasting furniture and carpentry projects.