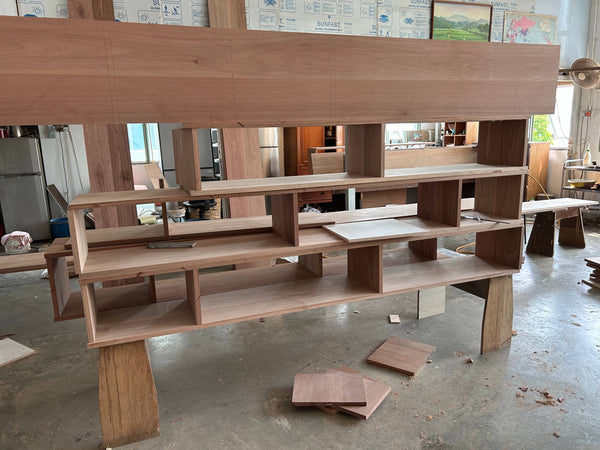 How to find a good carpenter in Singapore?
There are plenty of websites listing carpenters in Singapore. But how can you tell one is better than the other? What should you expect from your carpenter in terms of finish and quality? Here are a few pointers.
What to expect from a good carpenter
There are several ways to tell if someone is a good carpenter. Here are a few things to look for:
Attention to Detail: A good carpenter pays close attention to details, ensuring that every joint is flush, every cut is precise, and every surface is smooth. We always use ABS edging where available, to ensure seamless joints.

Experience: A good carpenter has years of experience under their belt, which means they've encountered a wide range of projects and have a depth of knowledge about different techniques and materials. At HomeShake, our carpenters have an average of 10 years of experience.

Good Communication Skills: A good carpenter listens carefully to their clients' needs and communicates effectively to ensure that the final product meets their expectations. At HomeShake, we always work as a team with a designer to support communication with clients.

Use of Quality Materials: A good carpenter uses high-quality materials to ensure that the final product is both functional and aesthetically pleasing. At HomeShake, we offer beautiful high-pressure laminate and reliable wood veneer.

Timeliness and Reliability: A good carpenter is punctual and reliable, showing up on time and completing the project within the agreed-upon timeframe. At HomeShake, our lead time is 1 to 2 months only.

Attention to Safety: A good carpenter prioritizes safety on the job site, using proper safety gear and following established safety protocols. We are bizSafe 3 certified as per Singapore government regulations.

Portfolio of Work: A good carpenter should have a portfolio of their past work that demonstrates their skill and versatility. Please contact us for more pictures of our work, or visit our showroom!
Common Mistake: Looking at price ONLY
Choosing the cheapest carpenter is not always the best option. While cost is an important factor, there are other factors to consider when selecting a carpenter for your project.
Here are some things to consider when making your decision:
Quality of Work: Cheaper carpenters may use lower-quality materials or take shortcuts in their work, which can compromise the quality of the final product. A higher-priced carpenter may use higher-quality materials and have a better attention to detail, resulting in a better end result.

Experience and Expertise: A more expensive carpenter may have years of experience and specialized expertise that a cheaper carpenter does not. This can translate to better problem-solving skills and more efficient completion of the project.

Reputation and Reviews: Look for reviews or references from past clients to determine if the carpenter is reliable and produces quality work. Cheaper carpenters may have more negative reviews or complaints from past clients.

Insurance and Licensing: A carpenter who is licensed and insured may be more expensive but will protect you from any liability in case of accidents or property damage during the project.
Ultimately, it's important to balance cost with the quality of work, experience, reputation, and other factors when selecting a carpenter for your project.