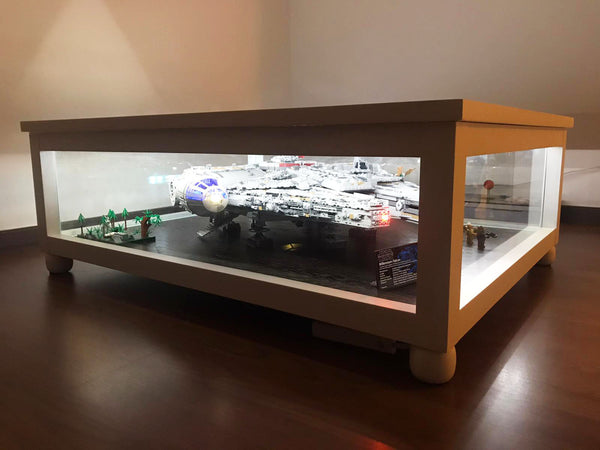 How to Display my Lego Model?
We have designed a display coffee table for Lego models like the Star Wars Millennium Falcon. It is fully customizable from size to wood colour, including the number of glass panels. Here's what to do.
Our Design, Your Table
If you own collectibles that you would like to display, this coffee table is made for you. Your LEGO models, kids' artwork or precious figurines will find a new home with our display coffee table.
Customize the size, tabletop design, glass panels – modify the number of drawers to make it more practical – and you will get the perfect piece for your living room. We designed it for the Star Wars Millennium Falcon LEGO model, and since then, dozens of clients have ordered this piece to house their Imperial Star Destroyer or MARVEL wax figurines. Get in touch with us to commission your own.
How It Works
Click Here to Start: https://homeshake.com.sg/products/display-coffee-table
Length, Width, Height. That's pretty much all you need to worry about. We want your furniture to be a perfect fit. Just type in your preferred dimensions, in millimetres. And if you want them to appear on the 3D model, there is a toggle for that under "Visual Aides".
In terms of pricing, it is all there: no hidden cost, no delayed quotation. We believe in transparent pricing. Our prices are adjusted automatically and immediately, based on your design. You can purchase your beautiful piece of furniture right away, or book and appointment with us to discuss it in person.
Try our Configurator here: https://homeshake.com.sg/products/display-coffee-table