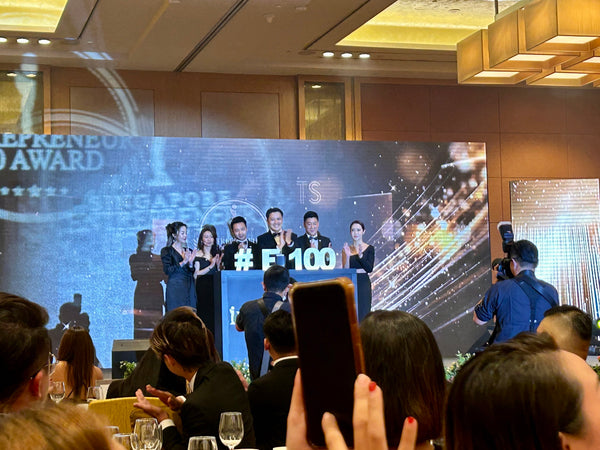 ATC 2023 Gala Dinner: HomeShake Receives Entrepreneur 100 Award
 SINGAPORE, 12 April 2023 - HomeShake received the Entrepreneur 100 Award at a glittering gala dinner and presentation ceremony on 05 April 2023. The event, which took place at Sands Expo and Convention Centre, Marina Bay Sands, was attended by over 250 guests, including prominent business leaders and partners.
Organized by ATC, the Entrepreneur 100 Award celebrates the achievements of Singapore's annual performing entrepreneurs, who have demonstrated exceptional vision, leadership, and innovation in their respective fields. The award recognizes the most outstanding entrepreneurs who have contributed to Singapore's economic growth and development.
2022 winning entrepreneurs have shown outstanding performance and have made a significant impact on their respective industries through their innovative business ideas, strategic decision-making, and perseverance.

The ceremony began with a welcome address from Guest-of-Honour, Mr Shawn Huang. Mr Huang delivered an inspiring address on the importance of entrepreneurship in driving economic growth and innovation in Singapore. Mr Huang also highlighted the challenges faced by entrepreneurs and the importance of resilience and adaptability in overcoming these challenges.

The gala dinner and presentation ceremony were a huge success, with attendees expressing their admiration and congratulations to the winners for their remarkable achievements.

We would like to thank Mr Shawn Huang for gracing the event and presenting the awards, as well as ATC's committee chairpersons and partners (Pro-Enterprise Panel, STACS and Singapore Cancer Society) who were present.
For more information about the Entrepreneur 100 Award 2022 and a full list of winners, visit https://e100.atc.sg.

About the Entrepreneur 100 Award

Entrepreneur 100 Award honours and celebrates Singapore's performing entrepreneurs of the year whose inspiring ambitions have contributed to the business's success, delivering growth, business innovation and prosperity that transforms the industry.
About the Association of Trade & Commerce (Singapore)
The Association of Trade & Commerce (Singapore) (ATC) is a community organization established to congregate and represent Singapore's businesses and entrepreneurs across major industries and trade sectors, on both local and international scale. ATC advocates actively for the interests of enterprises, focusing in the areas of development, capabilities, sustainability and community building.
To further promote Singapore's enterprise and trade environment, we consult the enterprise community and collaborate with private and public sectors to develop and introduce relevant programmes that enables enterprises to digitise, develop, transform and internationalise.
For all the people across the businesses that we represent, ATC is positioned as a trusted advocate, partner and network; working with the community to develop and improve businesses, the society and people's lives.