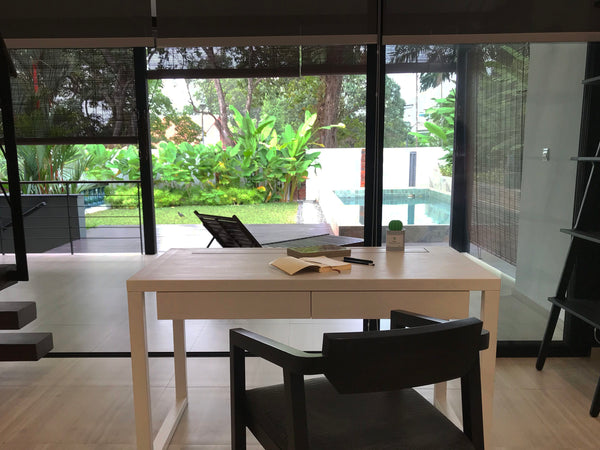 8 Ways to Customize Your Desk
Finding the right desk to match your style and space can be mission impossible. Here's how you can customize it with our furniture configurator, and get the perfect fit for you.
1. Dimensions
We are not just talking length. Of course, for a home office, you have to do with limited space and sometimes fit the table between 2 walls or other furniture.
But you should pay attention to the height, and more precisely the leg clearance. Standard desks with drawers make it virtually impossible to push your chair under the table, because the armrests will hit the table top. Taller people will find it difficult to stretch their legs, and it is impossible to cross them.
Most importantly, make sure the height of the desk allows you to lay your forearms flat. This is to prevent wrist injury in the new era of work from home.
With our configurator, you can adjust the length, width and height of the table top, and even remove drawers for increased leg room. Make sure you click on the "Show Dimensions" toggle to check the actual leg clearance.
2. Drawers
If you start customising the length of your table top, you must pay attention to the number of drawers.
Our Alnwick Desk comes with 3 drawers in its standard design. With a table top length of 1300mm, that leaves just enough space inside each drawer to fit an A4 file or a laptop. If you have larger folders or long rulers to keep, you should reduce the number of drawers, which will automatically increase the size of each of them.
Similarly, if you set a custom length of 2000mm for your desk, you should consider increasing the number of drawers. Some of our clients design such pieces in a his/her manner, so that both of them can have ample space to work from home.
Notice the beautiful recessed handles that we carve for each drawer. Because they are made in wood, there is no black laminate line or weak point. And we always make the wood grain match from left to right.
Of course, if you prefer a desk without drawers, just click on the "Drawers" toggle. That will allow you to modify the table top profile.
You can find more about our Workmanship & Legacy on our website.
3. Leg Design
Don't settle for the usual square or round legs. Get something original, something that feels right, something as unique as you.
We offer no less than 8 different designs of legs to choose from when customising the Alnwick Desk.
Our team worked on original designs which we called Arrow, Straight and Trapezoid leg, as well as carved patterns: Half-Turned, Bamboo, Grooved, Tapered and Fully-Turned.
For each of these designs, we carefully calibrated the thickness of the wood and the wood joinery, to make it as sturdy as beautiful. Each table comes with a specially crafted apron, which means that legs are always joined together to form a solid base.
Our legs are always made of Solid Timber. This is critical to make furniture that last a lifetime. Each slab of wood is inspected and cut in-house by our carpenters, using a mix of traditional technique and high-precision CNC machines.
If you are interested in these options but need help to custumize your piece, feel free to Visit our Showroom and Book a Consultation with our team of Interior Designers.
4. Wood Finish
It can be quite difficult to understand the lingua of some furniture retailers.
When you look around, read the labels. "Wood" doesn't mean "Timber". Sometimes it is Plywood with an overlay of Wood Veneer. Sometimes it is MDF with a Laminated finish. Sometimes it is just impossible to know because the retailer just doesn't provide enough information.
We use real wood. You won't find MDF in our furniture. We file, we saw, we carve, we sand, we varnish. We use high quality natural materials with beautiful wood grain and a strong density - to make it sturdy, practical, reliable.
We offer Oak, Teak, Birch, Walnut and Ebony. A few words about each:
American Oak

: for clients who want a light-coloured wood with beautiful wood grain. It is a safe choice for most, and fits well with many styles like Japanese, Scandinavian, Minimalist, Black & White, etc.

Birch

: very light, pale, which is exceptional in quality but tends to turn yellowish over time. Unique but High Maintenance.

Burmese Teak, African Walnut

: similar brownish tones but very different grain. Teak is less popular now but remains very reliable. Walnut is trendy, easy to match, and gives some warmth to the room.

Ebony

: very modern, our favourite choice for legs. More a colour than a type of wood, because we need to stain it dark to get that matte finish. Highly recommended, every time. 
Of course, these materials are also available for our other products:
5. Modesty Panel
This is an indispensable feature for office furniture. But it serves a design purpose too. It enhances the lines of the table legs and makes the structure sturdier.
We have worked hard to adapt the modesty panel to your choice of legs and blend it with the table's design.
Look at how the panel slides diagonally along the Trapezoid Legs. Look at how it closes gently the extremities of the Arrow Legs.
Both the length and material of the modesty panel are customizable. You can make it match the wood of the legs or use an accent tone.
6. Power Sockets
This is the most common request, and maybe the most important detail.
You must consider wire management when purchasing your study table. It can get messy and impractical if you don't have enough sockets or if your charge doesn't fit inside the grommet hole.
We are offering maybe the best solution on the market: Eubiq Tracks. Branded fittings, which come in 2 finishes, variable lengths and as many adapters as you want. Of course, all adapters are Singapore-ready.
Our 3D Model is smart enough to display the Eubiq Tracks and Adapters at scale. Adjust the length of the track and number of adapters to confirm that it all fits right. It is a small investment but it will definitely make a difference in the long run.
7. Table Top Profile
This is a trade secret. When you start looking into the table top profile, it means you already have a good understanding of woodworking and furniture design.
We thought you might be interested.
We offer no less than 18 different table top profiles. This is unprecedented in Singapore. No other furniture shop offers as many variations as we do.
For any table without drawers, you can customize the table top profile. Of course, it can be overwhelming.
We recommend 2 of them:
Arrised (Top and Bottom)

: this is your preferred solution for smooth edges and a sleek look, excellent with carved legs;
45 Degree Chamfer (Bottom Only)

: this is a more original option, which fits well with legs that are not turned wood (Arrow, Trapezoid, Straight).
8. Table Top Thickness
Our standard table top thickness for desks without drawers is 30mm. For some designs, or longer tables, you might want to opt for a thicker table top. This is why we offer the option to have a 50mm-thick table top. This will give a sturdy feel to your table, slightly less elegant but a statement piece.
Bonus: Vizualize it at Home with Augmented Reality
This is your reward. After your efforts to design the perfect desk, hit the AR button and vizualize your table in your own house.
This feature works beautifully on your phone.
Take a screenshot, share it with you friends - this is the right way to buy furniture that will fit your home. Quality furniture, always.
Quick Review:
Dimensions

Drawers

Leg Design

Wood Finish

Modesty Panel

Power Sockets

Table Top Profile

Table Top Thickness

Bonus: Vizualize it at Home with Augmented Reality